BOAT RENTAL IONIAN ISLANDS
Rent a boat Ionian Islands

Daily & Weekly Private Cruises in Corfu, Zakynthos, Lefkas and the Ionian islands.
IONIAN ISLANDS YACHT CHARTER GUIDE
Ionian Islands
Luxury Boat Rental Ionian Islands. Enjoy an exclusive holiday onboard our luxury yachts, catamarans, and sailboats for charter. Day boat tours, island-to-island transfers, Ionian island cruises. The Ionian Islands are one of the most sought destinations in the Mediterranean for a luxury yacht charter holiday, thanks to their warm, gentle breezes and the proximity of the islands, allowing guests to adopt a relaxed approach and enjoy a week or two of blissful island-hopping.
Many caves, beaches, and quiet local villages, can be found on the shores of Corfu and Kefalonia, Ithaca, and Paxi. Enjoy a long lunch with a carafe of white wine in a waterside taverna, then hop back on board your luxury yacht to cruise around to the next bay for a refreshing dip on a deserted beach. .
With many bays being inaccessible by road or footpath, the only visitors to some of the prettiest anchorages are those that arrive by yacht, making it easy to find your private spot to enjoy. Corfu Town is a must for culture vultures keen to explore its Venetian fortresses, whilst the harbors of Lefkada offer traditionally warm, Greek welcomes and quintessential tavernas looking out over turquoise waters. Charter a crewed boat or a luxury yacht and explore the beauties of Corfu, Lefkada, Kefalonia, Ithaca and the Ioanian Islands.
BOAT RENTAL IONIAN ISLANDS
Ionian Islands Concierge is an exclusive concierge service in the Ionian Islands dedicated to providing our clients with the highest levels of services, in partnership with Ionian Islands Concierge, we can provide a list of luxury services and experiences. Accommodation, Boat Parties, Wedding Proposals, Yacht Event Planning, Private Driver Service, Luxury Travel, Bespoke Concierge and Personal Assistant Services.
Comfort and elegance are our specialty and our ability to satisfy our guest's wishes even in the slightest detail. Your Concierge will be your trip designer according to your needs and expectations, let us know your requirements and we will be pleased to help make your dream trip to the Ionian Islands unforgettable.
Scattered off the western coastline of Central Greece and to the south of Peloponnese, the Ionian Islands are, an island group comprising large and small islands. They are traditionally called the Seven Islands, but the group includes many smaller islands as well as the seven principal ones. Zakynthos, Ithaca, Corfu, Kefalonia, Lefkada, Paxi (or Paxos), and Kythira are the seven and most popular islands of the group, while Antikythira, Antipaxi, Ereikousa, Mathraki, Othonoi, Meganisi, and Strofades are lesser-known smaller islands..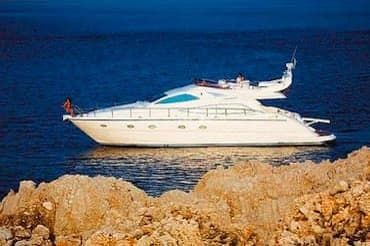 Boat rental in the Ionian Islands
Day Yacht Charter (12 guests)
Services in the Ionian Islands
Best day CRUISE IN THE IONIAN ISLANDS
Corfu to Paxi is the best destination for a day cruise in the Ionian Islands. Corfu is located, in the northern Ionian Sea, opposite the coast of the Greek mainland and southern Albania, which is the westmost part of Greece. Northwest of Corfu are three small islands, named Othoni Mathraki and Erikoussa respectively, known as the Diapontian islands, and to the south are the islands of Paxos and Antipaxos. Altogether they form the Prefecture of Corfu. It is the seventh bigger island in Greece and one of the most beautiful islands, perhaps the greenest island with dense vegetation, unmatched in natural beauty with dozens of sightseeing, beautiful beaches, and a well-developed road network.
Paxi (or Paxoi) is a small island that sits south of Corfu, on the northern side of the Ionian Sea. Even though it is an island relatively untouched by international tourists, Paxi is well-known to the Greeks for its exotic landscape. Oozing a discreet cosmopolitan due to the many yachts that moor at its port every summer, Paxos island is shaping up to be one of the hottest destinations in Greece! Paxi is particularly famous for its beaches! Paxi beaches boast a beautiful exotic landscape and have enticingly clean emerald waters, ideal for swimming! Especially Antipaxi, a tiny island opposite Paxi, is famous all around the world for its exotic Caribbean-like beaches.
ISLAND HOPPING IONIAN ISLANDS
There are seven main islands in this western archipelago. There are also many smaller ones you can visit in less than a day. The most important islands in the Greek Ionian are Corfu, Zakynthos, Kefalonia, Lefkada, Ithaka, Meganisi, and Kythira. While the first four are very popular and often overcrowded in summer, the last three are lesser-known, more tranquil, and less visited. The smaller islands in the Ionian are Antipaxos, Syvota, and Antikythira, among others.
BEST WELLNESS IN IONIAN ISLANDS
Combine your holidays with a special treatment, indulging yourself for a day at a wellness spa, an ultramodern thalassotherapy center, yoga or a hammam. Wake your senses, relax your spirit and revitalize your body.
Weekly Yacht and Boat Charter
The Ionian Islands have long been a popular yacht charter destination for weekly boat rental. Occupying the west coast of Greece, the Ionian archipelago comprises Corfu in the north, Paxoi, Lefkas, Kefalonia, Ithaki, and Zakynthos in the south - all of which include dozens of smaller islets. The cosmopolitan island of Corfu is where most embark on their yachts. Corfu is a cultural cauldron where the West meets the East and a place with a long history of Greek, Italian, French and English influences. Venture deep into the Ionians to discover islands blanketed in luscious greenery and unspoiled bays perfect for watersports. Charter a luxury boat or yacht and experience the best of the Ionian Islands.
Weekly boat tours and private cruises with our exeptional boat rentals in the Ionian Islands. From sailing boats, speed boats, ribs to catamarans and luxury yachts. Ionian Islands yacht concierge will be at your disposal to pick the best boat and suggest a unique itinerary according to your needs. It allows you to experience the nature of yacht rental in the Ionian Islands. Away from mass tourism, swimming in the crystal clear sea can only be reached by sea charters. Boat Rental Greece suggests yacht rental in the Ionian Islands. The ideal destination for relaxing, family gatherings, local beauties, and villages to enjoy up in your yacht. A boat rental in the Ionian Islands offer a plethora of opportunities for every visitor. 
VIP SERVICES
Your private driver and a tour guide will be 24/7 at your disposal in Corfu, Lefkas, Zakynthos, Kefalonia, and other Ionian islands. We take care of every detail of the trip while the yacht reaches the port. We not only provide our guests with a premium and personal service, but organize in every detail what is asked. No matter how big or small the request, we have the expertise to provide you with exclusive support.
Private Chef Service
Our private chefs in Ionian Islands will prepare amazing dishes to our yacht/boat guests according to their needs. From light lunch with local wine or sampagne to a boat party with exeptional dishes.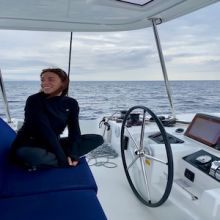 BOAT RENTAL IONIAN ISLANDS
Boat rentals, luxury yachts, speedboats, sailboats, and catamarans for rent in the Ionian Islands.
Boat Rental Ionian Islands