WEEKLY BOAT CHARTER GREECE
Luxury Boat Charter in Greece

Weekly Private Cruises in Greece. Speedboats, sailing boats, catamarans, motor yachts.
BOAT CHARTER GREECE GUIDE
WHY CHARTER IN GREECE?
A yacht charter is unquestionably the best way to discover the world's most pristine destinations in complete comfort and privacy. Every yacht charter is unique. Greece remains a luxury wonderland for high flyers seeking an evocative mix of island parties, boutique beach bliss, and sailing splendor. So escape the crowded beaches and tourist hotspots this summer with a luxury Greek yacht charter.
Boat Rental Greecepromises to give you unforgettable moments in the deep blue waters of Greece. With a different beach to discover every day and ruins that tell of Greece's ancient legacy, it's no wonder that Grecian shores have been the playground of Gods and Goddesses for thousands of years .
ISLAND HOPPING IN GREECE?
The Greek islands are renowned around the world for their unrivaled beauty, their amazing diversity, and their capacity to please everyone regardless of the type of vacations they are looking for: from cosmopolitan to off-the-beaten-path, there are islands for you. Not just one- several. And that's because Greece boasts more than 200 inhabited islands and a couple of thousand in total.
So why not go to as many as you possibly can? Greek Island Hopping is an adventure that you shouldn't miss out on. Everyone must go Greek island hopping at least once in their life, and experience the uniqueness that is Greece in many iterations instead of just one.
GREECE YACHTING DESTINATIONS
There are five main yachting areas in Greece: The Argo-Saronic Gulf, the Cyclades Islands, the Ionian Islands, the Sporades Islands and the Dodecanese Islands. With its consistent winds and sun-baked islands, Greece is arguably the best place in Europe to go yachting. Spend your days cruising between rocky coves with impossibly clear water. The Greek coastline is world famous for its dark sandy shores, secret caves and snorkelling-rich waters.
An idyllic yacht charter to Greece offers an escape from busy modern life. From the Cyclades to the Ionian Islands, spend lazy days exploring wild landscapes and deserted sandy coves, pretty harbours and white-washed fishing villages.Many mainland beaches have been awarded the Blue Flag.
TAILOR-MADE CRUISE
Let us take you in this unforgettable journey in the Aegean Sea and show you the best Greece has to offer – beautiful islands, turquoise waters, secluded pristine beaches only accessible by boat, culinary delicacies, myths & legends and much more. We are happy to customize the itinerary exactly following your idea. Contact us and let us know what you wish!
Enjoy the gorgeous beaches, take in the party hotspots. Delve into Greece's rich history and mythology, soak in the sights, tastes and spirit of Greece. We are engaged in a variety of cultural, sports and other activities and invite you to share these experiences with us!

Boat Rental Greece is a team of professionals who are here to deliver the finest first-class luxury yacht charter Greece luxury service for you with personal touch and assistance. Boat Rental Greece make it our priority to ensure your safety and comfort above all. Professionality, discretion, and responsiveness are our best qualities. It makes us proud to address all of your needs when renting our luxury boats or chartering our yachts, and it is our goal to deliver excellence and perfection. Mykonos, Santorini, Athens and the Ionian Islands: our standards are the same, and quality is the finest! Do reach out for more information on our boats and yachts! We sure have one that is just perfect for you!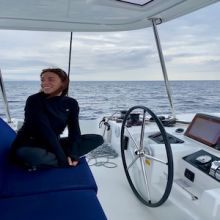 BOAT CHARTER GREECE
Boat rentals, luxury yachts, speedboats, sailboats, and catamarans for rent in the Ionian Islands.
Boat Rental Greek Islands